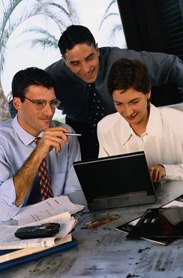 IN ORDER TO OPERATE A SUCCESSFUL HOME-BASED BUSINESS,
you need several things....
* A location to conduct business ( den, bedroom, basement)---
where you maintain a desk, file cabinet, computer, etc.
* Access to a telephone, voice mail (answering machine) and supplies,
such as: calculator, tablets, typewriter, etc.
* Business cards and brochures
* Access to printer and copier machines to make flyers, brochures, etc.
* Unique, high quality products (and/or services) to market.
* RESOURCES for advertising, marketing and promoting.
* A written BUSINESS PLAN that explains your services, products, costs, etc.
A PLAN removes your business idea from the level of an
"impulsive dream" to that of being a more concrete
possibility of becoming a reality.

CREATE A CLEVER, UNIQUE MARKETING GIMMICK
...something that customers will easily remember!
Crucial to the success of any small business is the ability
of the business owner to distinguish that business from its
competitors.
WAYS TO MAKE YOUR BUSINESS UNIQUE:

A) Offer FREE gifts and discounts to your customers.

B) Create a "theme" or special slogans for your business, such as
what Burger King uses--- "...have it your way..."
LET'S MAKE IT HAPPEN !
IF YOU DON'T HAVE A BUSINESS IDEA, CONSIDER THIS ONE:
Millions of people do not have any type of
HEALTH INSURANCE or HEALTH CARE BENEFITS.
Now, you can offer AFFORDABLE BENEFITS to people
and earn a good income helping others.
Want more details? Call this number:
1-800-347-7415.... listen to the recorded message.
If you are further interested in doing this business...
TEN BASIC MISTAKES THAT HINDER YOUR BUSINESS SUCCESS:
1. Failure or refusal to read, study, and learn the profit-making methods, laws, regulations and proper business structures.
2. Failure to offer valuable products or services.
3. Mailing out poorly typed, misspelled, sloppy or messy flyers & brochures.
4. Under-estimating the weight of your mailer-- and using too little postage.
5. Failure to PLAN and keep good business records.
6. Inappropriate and overly-expensive advertising in publications.
Insufficient promotion and advertising.
7. Failure to effectively spend and invest money.
8. Failing to track or "key" ads in order to determine effectiveness.
9. Insufficient or limited inventory to sell.
10. Poor customer service.
YOU CAN HAVE A MILLION DOLLAR DAY !
Click here to get more info on BUSINESS MISTAKES TO AVOID online.

Marketing and advertising are keys to business success!
EARN WHILE YOU LEARN....
USE OUR BOOKS TO---
INCREASE YOUR CUSTOMER BASE...
INCREASE DONATIONS TO YOUR NON-PROFIT GROUP...
OFFER UNIQUE GIFTS TO YOUR CLIENTS...
HERE ARE EXAMPLES OF MARKETING IDEAS:
USE THE BOOKS to
increase membership
by giving new
DONORS
or NEW MEMBERS a free copy of HAVE A MILLION DOLLAR DAY.
Perhaps you are in the "Health business"---
and you distribute a fantastic health drink...
YOU CAN USE THE BOOKS TO GIVE TO NEW REPS
who sign up or who buy a case.
Or perhaps you have many clients--such as:
PHARMACIES, CLINICS, NURSES UNION, DENTISTS,
HEALTH CARE WORKSHOPS, etc.
and want to better educate your clients, patients, etc. ---
the book: IMPLOSION: Gone with the Weather
might work as a gift to all who attend your big event.
* SPONSOR A CONTEST ....every 100th customer wins!
* FOR SEMINAR INSTRUCTORS--- you could use the books to give to
your participants or as an educational aid for the workshops.....
* BLACK HISTORY MONTH--- raise funds for your group or school
Buy large quantities of our books at huge discounts.
Purchase at least 50 copies and get a BIG DISCOUNT off retail price.
For more info and details, contact us:
LET'S MAKE IT HAPPEN !