WOULD YOU LIKE TO KNOW WHERE TO SELL YOUR
PRODUCTS & SERVICES ?


Just look around any place that you go---schools, clinics, hospitals, office buildings, hotels, etc.----and guess where they get the various plaques, bags, health products, clothing, uniforms, ashtrays, dishes, light bulbs, cleaning products, decorations, furniture, supplies, machinery,
(and so on)....

Where do you think city hall or the schools purchase some of their office supplies, books, decorations, art, and other products?

*ANSWER= ...they buy from small businesses.

The U. S. military purchases millions of products from small businesses.
'Procurement' is the term used by the government which refers to buying
products and services from businesses.

State, City and Federal Government agencies buy them from small businesses !!!
You can offer your own products to these businesses by contacting the *purchasing department* for each of them.
Send your promotional letters and flyers to the PURCHASING DEPT. of major companies, hotels, hospitals and government agencies to let them know you are a supplier of these products and services.
Or do business with the federal government----
MORE DETAILS CAN BE FOUND AT THESE WEBSITES:
http://www.eps.gov
AN IMPORTANT KEY TO BUSINESS SUCCESS IS:
---advertise, advertise, advertise, advertise !
LET'S MAKE IT HAPPEN !
Members of the Million Dollar Club receive many benefits to uplift their lifestyle and income.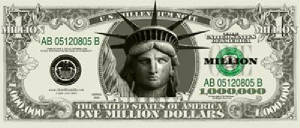 WOCF will make referrals to certain resources, lenders, investors, publishers, etc. but clients must evaluate if these services can and will assist them in reaching their goals. MDC is not responsible for any fees charged by these sources or any other member interactions with listed companies.